27. Januar bis 28. April 2011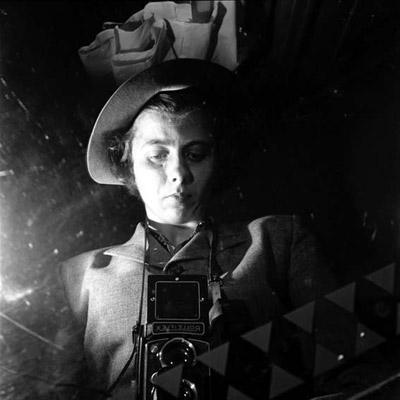 Vom 27. Januar bis zum 28. April 2011 präsentiert die Hamburger Galerie Hilaneh von Kories die Ausstellung "Twinkle, twinkle, little star..." mit einer Auswahl von über achtzig Werken aus den fünfziger bis sechziger Jahren, der bisher in Deutschland nie gezeigten Fotografin Vivian Maier. Eine überraschende Neuentdeckung, denn Vivian Maier hat zu Lebzeiten keines ihrer Bilder publiziert oder war je in die fotografische Öffentlichkeit getreten. Ihren Lebensunterhalt hat sie als Kindermädchen verdient, doch ihre wirkliche Passion lag in der Fotografie. In den fünfziger bis neunziger Jahren entstand ein riesiges Werk mit Fotografien aus den Straßen von Chicago und New York. Sie zeigen vor allem Menschen auf Straßen und Plätzen, kleine Läden und Cafes, das alltägliche Leben.
Fast wäre dieser Schatz verloren gegangen. Die Rettung war vor ein paar Jahren die wohl schicksalhafte Begegnung des Werkes mit dem Immobilienmakler John Maloof aus Chicago. Was mit seiner eher beiläufigen Ersteigerung eines Kartons aus dem Bestand eines Lagerhauses während einer Möbelauktion begann, entwickelt sich seither für den Käufer zu einer wahren Lebensaufgabe. Nur wenige Abzüge, aber über 100.000 schwarz-weiß Negative, in Pergaminhüllen verwahrt, französisch beschriftet, fanden sich in dem Karton. Dazu kamen noch rund 20.000 Farbdiapositive und tausende von bisher nicht entwickelten Filmrollen. Erst bei der allmählichen Sichtung und Auswertung wird deutlich, welche Fülle und Qualität dieser Ankauf enthielt.
Vivian Maier fotografierte die Flaneure, die Hausfrauen, die Händler, Arme und Reiche und vor allem Kinder und ihre Spiele auf der Straße. Denn, so scheint es, Kindern fühlte sie sich immer besonders nah. Teils voller Neugier, teils mit ernster Distanz blicken sie in die Kamera der Fotografin. Trotz aller Spontaneität hat sie einen genauen Blick für das Wesentliche, für die gelungene Komposition. So entstanden hinreißende Porträtstudien. Der Betrachter von heute erlebt nicht nur die Passanten von damals, sondern erhält ganz nebenbei einen Einblick in die Wohn- und Lebensverhältnisse, den Alltag der Großstadt. Die Fotografien bezeugen weit mehr als nur dokumentarisches Interesse, sie zeigen den subjektiv wahrnehmenden und gestaltenden Blick auf die Zeit. Der Augenblick von damals fasziniert auch heute. Den Vergleich mit den Legenden der street photography, wie Robert Frank, Helen Levitt, Diane Arbus oder Henri Cartier-Bresson braucht das Werk von Vivian Maier nicht zu scheuen. Auch wenn es nun erst ein halbes Jahrhundert später entdeckt wird.
War die Begegnung des unfreiwilligen Nachlassverwalters Maloof eher Zufall oder Fügung? Mit unglaublicher Energie und großer Akribie widmet sich Maloof dem Bilderschatz. So bringt er nach und nach die fotografischen Meisterwerke von Vivian Maier zurück in die Öffentlichkeit, wenngleich auch nach intensiven Recherchen noch viele biografische Details über die Autorin im Verborgenen sind. Geboren wurde sie in New York als Tochter europäischer Einwanderer. Anfang der fünfziger Jahre begann sie als Kindermädchen zu arbeiten, ab 1956 war sie für eine sehr reiche Familie in Chicago tätig.
Nach den wenigen Aussagen über ihre Person war Vivian Maier wohl ein eigensinniger, bisweilen eigenwilliger Charakter, der seine Unabhängigkeit in der Fotografie fand. Nach Krankheit und einer Zeit der Obdachlosigkeit finanzierten ihr später drei Brüder, die früher von ihr als Kindermädchen betreut wurden, bis zum Ende ihres Lebens eine kleine Wohnung in Chicago.
Auch wenn das Geld und die Zeit nie für eine eigene Dunkelkammer und die Veröffentlichung von Bildern gereicht haben und Vivian Maier den Erfolg durch die Arbeit ihres Wiederentdeckers nicht mehr erleben kann, hat ihr Werk heute seinen Platz in der Fotografiegeschichte gefunden.
Twinkle, twinkle, little star,
How I wonder what you are!
Up above the world so high,
Like a diamond in the sky!
Alle Motive wurden mit Epson UltraChrome K3 archival inks auf Epson UltraSmooth Fine Art Paper geprintet.
Vivian Maier:
Twinkle, twinkle, little star...

27. Januar bis 28. April 2011
Vernissage: 27. Januar 2011 um 19 Uhr | Laudatio: Dr. Henriette Väth-Hinz
Öffnungszeiten: Dienstags bis Freitags 14–19 Uhr u.n.V.
Galerie Hilaneh von Kories
Stresemannstraße 384a (im Hof)
22761 Hamburg
Tel: +49 (40) 423 20 10
mail@galeriehilanehvonkories.de
www.galeriehilanehvonkories.de
Veröffentlichungen zu dieser Ausstellung
Radio

NDR 90,3 am 27.01.2011

Presse